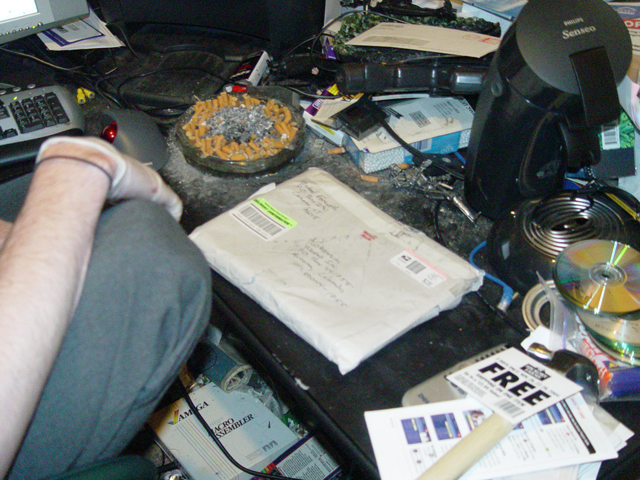 mistersloth finally sent the filmscript he'd threatened to send to me. And, yes: I've got a Senseo on my desk, next to my Star Wars rifle from 1978. Where would you put it?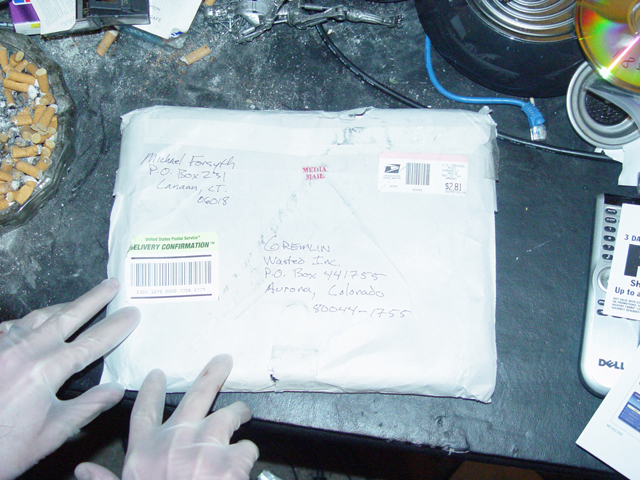 Coincidentally, the package--which I'm handling through surgical gloves now that mistersloth has openly threatened to kill me--is in the cleanish spot on my nine-square-foot 'desk' left in the void where my laptop otherwise always sits.

Don't worry. The filmscript isn't all handwritten. Although this terroristic moron does appear to have sent me the original, complete with crossouts and updates written in ballpoint.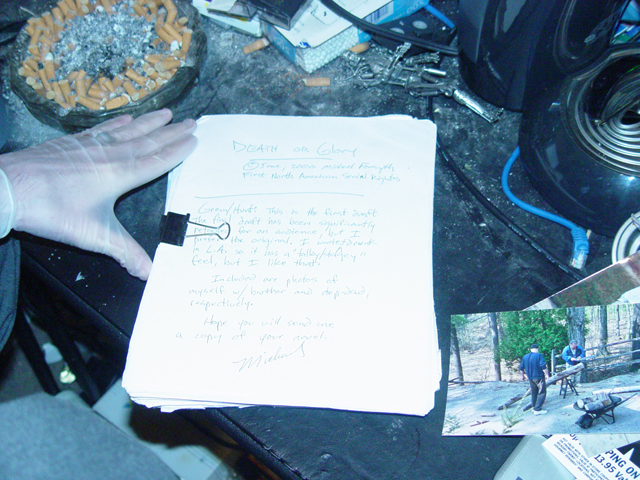 Here's the next coversheet, in which mistersloth, who actually seems to be Michael Forsyth of Eighty-six Main Street; Canaan, Connecticut 06018-2460 [860-824-8448], suddenly starts to pretend, having sent me an unsolicited script [to reiterate: all submissions become property of Gremlin and cannot be returned], that I'm supposed to send him copies of novels I've published, since this 'tard evidently can't afford to buy them through amazon.com....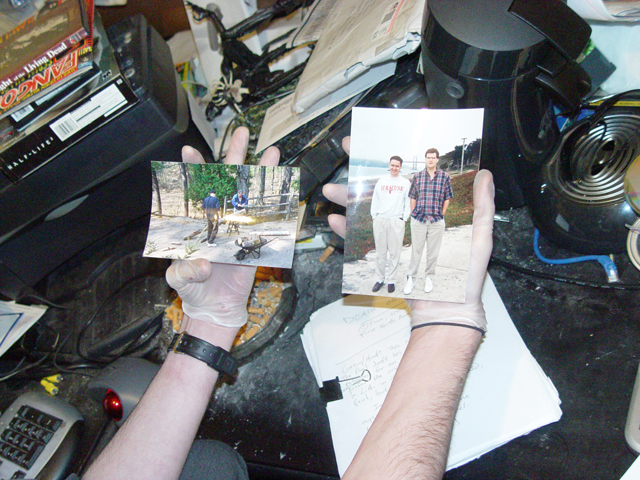 Here we have a shot of the snaps that mistersloth included in this mess. Apparently, the shot on the right has him on its right--the big fat goofy bespecticled geek in the cheap shoes, khakis, and the Bill-Gates-is-gonna-take-my-lunch-money shirt. This is the retarded mendicant who wants to convince you that he's terribly more important to the planet than I am. Lock your doors.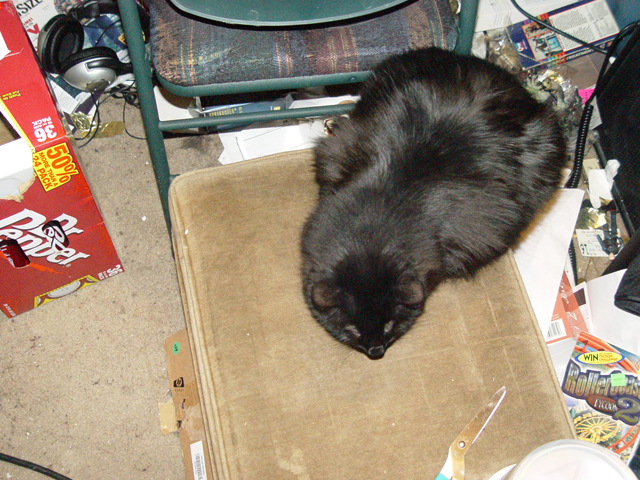 Zombi wants nothing to do with this imbecile. It's deplorable when you can actively disinterest the world's friendliest cat with your filmscript.

Did I mention that mistersloth sent me the original, dogeared, waterstained, rejected copy of this disaster? I haven't even read it yet, and I can already tell I'm in for a night of Mystery Science Theatre crossed with Choose Your Own Adventure....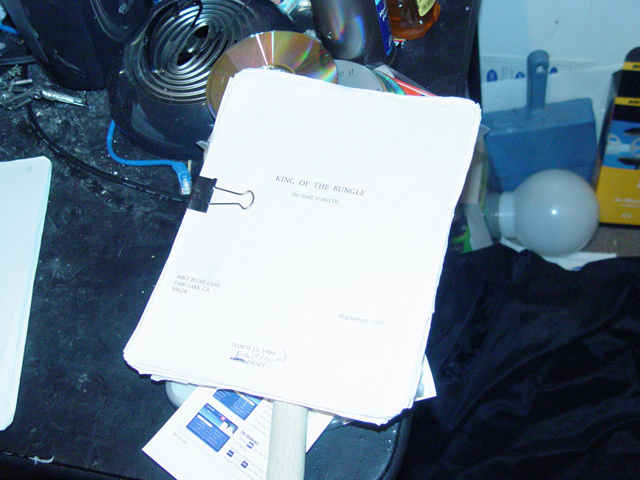 The second filmscript, which I hadn't been warned about. King of the Bungle. My guess: it's mistersloth's autobiography.

This? This is me pretending to read this mess. This is also a chance for me to see how long my hair has become, from behind. Also, and really enlightening, I can see my vertebrae through two shirts. I'm incapable of becoming fat. Or of having short, geeky hair, cheap spectacles, and/or mistersloth's outfit.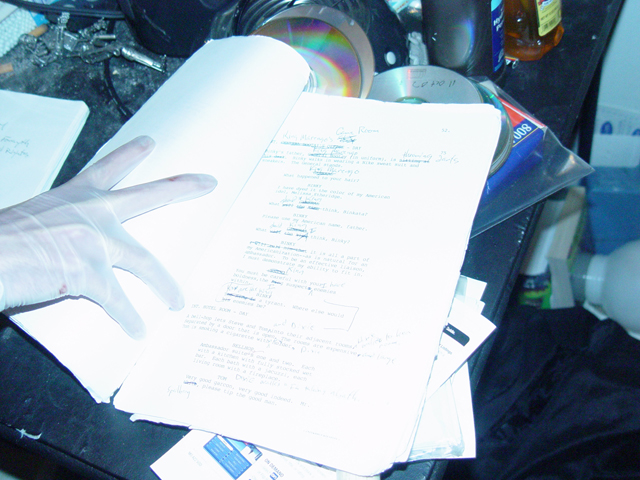 I'd intended to OCR this thing and deal with it in the computer. But, given the percentage of it lost to crossouts and ballpointed revisions...I might be asking too much of Microsuck. Expect delays on my review....

I'm not fully certain what this shot was about. Except that MondoHebe thought it should happen. Something about the fact that I smoke. Or that I have a messy desk with actionfigures of Spike and Wesker logically abandoned near my printer and Zippo fluid. Or that CafePress.com just sent me a royalty cheque for more than mistersloth has ever sold a filmscript for. Or something.

About the cheque, feel free to click on the image for a larger, more readable copy; you'll notice that CafePress.com send cheques to Gremlin at POBox 441755; Aurora, Colorado 80044-1755, which should say something about mistersloth's bullshit assertion that my 'real' name, which he pretends to know for some sort of fact, is something with the initials of 'JD'. mistersloth lies yet the fuck again.
More to come when I get round to scanning and reading through ninety pages of mistersloth's rejected bullshit. Bookmark and stop back from time to time....
--Gremlin